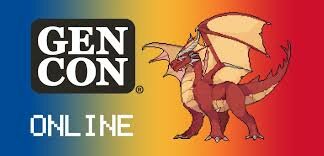 Gen Con Online is taking place July 30th - August 2nd, and Wyvern Gaming is happy to announce that we will be launching our "Stargate SG-1: Phoenix - A Living RPG Series" at the event!
Stargate SG-1: Phoenix – A Living RPG Series is a living campaign in which your character will live within a Stargate canon universe series called "Stargate SG-1: Phoenix." Your success and failures will shape the story that plays out over a course of a "Season" of "Episodes" released over the coming year, with the final episode release at Gen Con 2021! 
At Gen Con Online we'll feature our first three Episodes, which will be run by expert Gamemasters. While the SG-1 RPG Core Rulebook is not yet publicly available, the Gatemasters will be using the latest and greatest ruleset in order to run these games. As a player, in this Gen Con Online event, we'll provide each player a PDF version of a SG-1 RPG Quick-Start Guide. This guide will cover everything you need to play the game and will including pre-generated characters in each class!
The events will be listed on the Gen Con Online website starting July 6th and will be available for registration on July 13th. When you join us for this event, you'll be the first to officially join up with the Stargate Phoenix team and help mold the canon universe! 
In addition to the games, we'll be featuring:
- Q&A session with Wyvern Gaming about the development of the SG-1 RPG
- SG-1 RPG Gameplay Broadcast
- Other Surprises!
Be sure to watch for any updates to the schedule by signing up at stargateTheRPG.com. We hope that you are as excited as we are, and we look forward to seeing you virtually! We thank you for your continued support. 
https://www.gencon.com/online
https://stargatetherpg.com
PS: If you are interested in GMing games for Gen Con Online, please send a message to gamemaster@stargateTheRPG.com. There are still a few slots left.

Thanks!
Wyvern Gaming Team
 
Edited by Sazeral
1